Salt Lake West Side Stories: Post Thirty-Two
by Brad Westwood
In honor of Pride Month, we present to you a brief history of LGBTQ+ communities centered around the Pioneer Park neighborhood (freeway to West Temple, North Temple to 600 South). The post is just one segment of a much longer series titled, "Salt Lake's West Side Stories" coming out this summer. Enjoy this sneak peek.
Although it had many prior informal political and social gathering spots, a number of bars and taverns located in the Pioneer Park neighborhood served as gathering spaces for Salt Lake City's LGBTQ+ communities. In 1970, just one year after New York City's Stonewall Riots sparked national gay and lesbian movements, Perky's, who advertised as a bar for women but discreetly served SL's lesbian population, opened its doors on North Temple. Perky's was eventually torn down to make way for the rebuilding of the I-15 North Temple overpass. The West Side was also the home of other LGBTQ+ nightspots, including Rose Tavern, opened in the early 1970s and whose name was changed to the Rail; the Uptown, that opened in 1976 at 1500 South and 400 West; Studio 8 opened its doors at 800 West and 200 South during the mid-1970s, and the Comeback Club (1977) located at 551 South and 300 West also became a popular gathering place for members of Salt Lake's LGBTQ+. Like other established communities, the Pioneer Park LGBTQ+ peoples have also had various publications including the longest-running LGBTQ+ newspaper The Pillar (1993-2007).
The Pioneer Park neighborhood welcomed LGBTQ+ people, but it is important to note that it was the only area where Salt Lake City citizens and Utahns allowed such places to openly exist.
The Pioneer Park neighborhood welcomed LGBTQ+ people, but it is important to note that it was the only area where Salt Lake City citizens and Utahns allowed such places to exist. Well into the twentieth century, the city police closely surveilled gay and lesbian bars and taverns.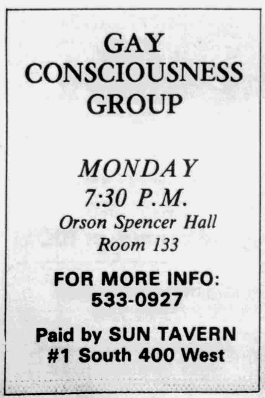 Utah's first gay bar, the Sun Tavern, opened its doors in 1973. Located on the northwest corner of South Temple and 400 West, the "Sun" became a de facto gay community center for the then publicly emerging community. Sun Tavern's founder and proprietor Joe Redburn, an openly gay man, organized Utah's first gay festival and public gathering, which took place in 1974 on the fifth anniversary of the Stonewall Riots. Sun Tavern remained one of Pioneer Park's hotspots. For example, one of the best-known arrests took place at the Sun Tavern in 1978, when Hollywood Squares TV show regular comedian Paul Lynde was arrested for disorderly conduct. Initially, Lynde called Salt Lake City police to report that someone had broken into his car and stole his briefcase and $1,000 in cash. A Salt Lake City police officer chose to arrest Lynde for public intoxication rather than investigate the robbery. At the time of the arrest, the comedian was in Utah to tape an episode of "The Donny and Marie Show" at Osmond Studios in Orem, Utah. After this story became public, the show's producer voided Lynde's contract. While Pioneer Park became a place for LBGTQ+ to gather, discrimination was a constant factor in their everyday lives.
The history of LGBTQ+ Utahns extends far beyond the boundaries of the Pioneer Park neighborhood. Today, with a prominent voice in Utah's public life and politics, Salt Lake City's LGBTQ+ communities are one of the nation's most successful in their quest for equality and justice. A recent Salt Lake Tribune article describes Utah as one of the most conservative and religious states in the union and as a state with some of the nation's best legal protection for its LGBTQ+ citizens.
Thank you for reading this post about members of Salt Lake's LGBTQ+ peoples and businesses. We hope that you join us when we officially launch the Salt Lake's West Side Stories blog series.
---
>Related Activity: One source that describes several archival, library, and historical materials about Salt Lake City's LGBTQ+ community can be found at the bottom of Utah Pride Center LGTBQ+ Resources.
>Contributors: A special thanks to Babs De Lay for offering information for the contents of this piece and others.
>Selected Readings:

Seth Anderson, LGBT Salt Lake City (Charleston: Arcadia Publishing, 2017).

"This Day in Gay History, September 9," Utah Stonewall Historical Society Archives (blog), September 9, 2013, http://benwilliamsblogger.blogspot.com/2013/09/this-day-in-gay-utah-history-september_9.html

"Paul Lynde Arrested," The Daily Item, January 12, 1978, 118.

Babs Delay, "Gay Ol' Utah, Being LGBT in a red state Doesn't Have to Give you the Blues," Salt Lake City Weekly, February 18, 2013, https://www.cityweekly.net/utah/gay-ol-utah/Content?oid=2286859

Courtney Tanner and Scott D. Pierce, "Utah Ranks 2nd in Nation for Supporting Laws that Protect LGBTQ Community," Salt Lake Tribune, July 22, 23, 2019, https://www.sltrib.com/news/2019/07/22/utahns-support-laws/